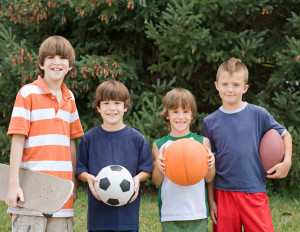 Summer gives us a million opportunities to get outside and get active. Are you taking advantage?
The beauty of summer is that you find yourself exercising in ways that don't FEEL like exercise. It's the perfect time to introduce your kids to some new activities and see what they find a passion for. Here are some ideas for summer activities that will get you moving!
Neighborhood Pickup Games
Neighborhood games sprout up in the summer as the evenings get long and children find themselves with a lot of extra time on their hands. Most games happen organically. Find ways to get your child involved, whether that requires getting extra gear for street hockey or a little bit of practice with shooting hoops. In any case, the teamwork and competition can be a great benefit as the summer days go by.
The Great Outdoors
Summer is the perfect time to get out into the national parks and wild spaces surrounding your home. This might require a little more planning, depending on where you live, but time spent in nature benefits both your mind and body and is well worth a trip. Try out mountain biking, hiking, kayaking, and climbing.
Back Yard Games
Simple games that friends can play together in the back yard should be a staple of every home. Games like badminton, ping pong, and sidewalk chalk activities can make your home a summer destination. Check out these fun games. You can get more ideas at your local sporting goods store, or check out DIY lawn games online.
Gardening and Yard Work
Here's a great way to get your kids active and also accomplish something this summer. Yard work or a family garden can be a great way to teach your kids basic principles about construction and plants, and it's also something that you can bond over. Even better, at the end of the summer, you'll have something that you accomplished together, either in the form of fresh produce, or a beautifully landscaped yard.
Discuss ideas with your child, and bring them with you when you shop for materials. Listen to their input on things that get them excited, whether it's growing certain plants, or adding fun decorations to your yard.
Community Sports Leagues
Even if it's not a sport's regular season, many communities have opportunities for kids to join team sports like volleyball, baseball, basketball, or swimming. Look around your community and see what's available, and then pick a sport that your child can thrive in. Even better, talk with your kid's friend's parents and see if there's something that they can do together.