Let us introduce you to our student of the week, Alexandria F.! Alexandria signed up to take Nutrition so she could learn more about the subject before entering nursing school. She also said this course helped her plan for and know what proper meals look like. 
What do you like most about your Carone Learning course?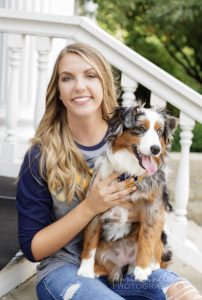 What I like most about my Carone Learning Course is that I have the ability to work at my own pace while still learning valuable information with the help and positive feedback from my teacher, Mrs. Shumway.
What have you learned in your Carone Learning course that will most help you in your life?
I have learned all about the different food groups and what each does for the body in my Carone Learing course to help me in my own life and in my journey of becoming a Nurse Practitioner.
How has your Carone Learning course helped you improve your level of health or fitness?
My Carone Learning course has helped me improve my level of health or fitness by teaching me what a proper meal should look like and how to plan them out accordingly with proportions and calories.
How has your cFitness Academy instructor helped you with your course or your goals?
My cFitness Academy instructor has helped me with my course and goals by always keeping me updated with my progress and giving me positive feedback on my assignments.
Why did you sign up for a course through cFitness Academy, and how has taking this course online been beneficial?
I signed up for this course through cFitness Academy to have a better understanding of Nutrition for Nursing School. Taking this course online has been beneficial because I have the ability to do it in my own time and progress at my own pace without being held back by a whole class.
Here's what Alexandria's teacher had to say about her: 
"Alexandria is a wonderful student who turns in high quality work that she put a lot of thought into. I always look forward to reading her answers to discussion and reflection questions."
Just as all of our students are unique, we think Alexandria is pretty great and we're proud to have her in class! Thanks, Alexandria!