Let us introduce you to our student of the week, Barrett B.!  Barrett was enrolled in Health and Personal Wellness, he found the section on diet and nutrition helpful and informative.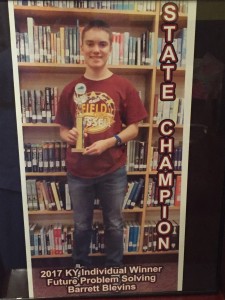 What do you like most about your Carone Learning course?
I like how I can pace all of my assignments, and my work. I don't have to rush to finish, I can pace myself.
What have you learned in your Carone Learning course that will most help you in your life?
The section about nutrition and dieting.
How has your Carone Learning course helped you improve your level of health or fitness?
It has helped by informing me how my meal should look, and the amount of nutrition I need every day.
How has your cFitness Academy instructor helped you with your course or your goals?
She has helped me by always replying whenever I have a question. She also sends me progress reports, so I can know where I am on my pacing.
Why did you sign up for a course through cFitness Academy, and how has taking this course online been beneficial?
I signed up for this course because I don't have enough room on my schedule next year to take health. It has been beneficial by informing how to live a more healthy lifestyle.
Please share any other comments you have about cFitness Academy or your Carone Learning course.
cFitness has allowed me to work through health at a pace that fits my schedule. I am being more challenged and learning some great self studying skills because of online health.
Here's what Barrett's teacher had to say about him: 
"Barrett is very thoughtful in his responses, he seems to take everything to heart and cares about what he's learning."
In Barrett's Health and Personal Wellness class, there is a section on the grieving process. Barrett was asked how he would help a friend who was grieving. His response shows how caring and accepting he is of others.     
"I would tell them I would be able to talk whenever they wanted to. When they would want to talk, I would be a good listener, and avoid asking a lot of probing questions. I would avoid making suggestions about how something else will make up for the loss. I would be patient, and not force them to talk to me. I would share fond memories. I would respect their process of grieving. Finally, I would write a note saying how sorry I am for them."
Just as all of our students are unique, we think Barrett is pretty great and we're proud to have him in class! Thanks, Barrett!