Let us introduce you to our student of the week, Logan W.!  Logan found it really helpful to have many health myths clarified in his Exercise Science course. He also really enjoyed the extra mile that his teacher, Ms. Kooyman went for him!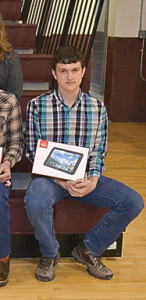 What do you like most about your Carone Learning course?
I really enjoy the pace and ease of using the class. I also really enjoy the staff that go the extra mile for their students.
What have you learned in your Carone Learning course that will most help you in your life?
I've learned a lot in this class, but I would say that the tips and recommendations for exercise are going to help me the most. Now I know about how different systems and your diet work together during exercise, and how to perform them safely and effectively.
How has your Carone Learning course helped you improve your level of health or fitness?
It has really shown me what things are important in physical fitness and what things are just myths. With this new knowledge I think I can now easily set up and effect diet and exercise plan to reach my goals.
How has your cFitness Academy instructor helped you with your course or your goals?
She has always given me advice and reminded me of what key ideas and points to focus on. She has been willing to help me whenever I've bee behind and did know some things I should have. She is very understanding of my prior responsibilities and wishes me luck in every thing I do.
Why did you sign up for a course through cFitness Academy, and how has taking this course online been beneficial?
Well, the reason I took this class is because I had to have a class during my 3rd block. When I noticed Exercise Science was an option it really pulled me to try it, and I definitely think it was a good decision. Taking this course online has been beneficial because I can pace myself and be able to communicate directly to the teacher with out any disruptions, and I also have the entire internet to research and explore new things.
Please share any other comments you have about cFitness Academy or your Carone Learning course.
I really enjoy this class, I learn not some thing but a lot of things new everyday.
Here's what Logan's teacher had to say about him: 
"Logan is a great student! He consistently demonstrates a solid understanding of the content. Also, he shows initiative and responsibility, reaching out when he has questions or concerns about the course. Great job, Logan."
Just as all of our students are unique, we think Logan is pretty great and we're proud to have him in class! Thanks, Logan!