Let us introduce you to our student of the week, Brooke S.! Brooke just finish up her Group Sports class and has reflected on the many positive changes and habits she's made. Brooke and her teacher are excited about the increase in her physical health.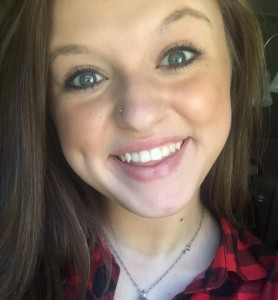 What do you like most about your Carone Learning course?
What I liked most about the Carone Learning course that I took is that the website is helpful as well as easy to operate. Also, my instructor was always available and responded within a couple hours if I had a question on an assignment. The course was not only educational, but encouraged me to live a healthy lifestyle.
What have you learned in your Carone Learning course that will most help you in your life?
The Carone Learning course taught me how to manage my daily personal life and exercise, and how to create my own workout plan. Along with teaching me the importance of how to develop a daily healthy life.
How has your Carone Learning course helped you improve your level of health or fitness?
During the Carone Leaning course my level of health and fitness have both improved tremendously! As I am approaching the end of my semester, I have lost 20 pounds due to my weekly fitness routine that I developed for my course! It is life changing.
How has your cFitness Academy instructor helped you with your course or your goals?
My cFitness Academy instructor was absolutely wonderful. I could not have asked for a better instructor. She helped me with assignments as well as responded to my emails within a couple hours. She was also understanding and would help me manage my time with my personal life, school life, and my class on Carone Fitness. If I would not be on my class for a few days, she always checked up on me through email and would keep me on task.
Why did you sign up for a course through cFitness Academy, and how has taking this course online been beneficial?
I signed up for this course through my school counselors, because I am graduating a year early and could not fit physical education into my schedule which is needed to graduate.
Please share any other comments you have about cFitness Academy or your Carone Learning course.
I have taken multiple classes online, not just physical education but other subjects, and Carone Learning was my hands-down favorite. I wish they had more subjects available! I highly recommend Carone Learning to anybody!
Here's what Brooke's teacher had to say about her: 
"Her work has been high quality all semester long, and she even got ahead with most of the work early on. Her communication with me has been consistent and she asks questions when needed. I've also been delighted with her personal fitness and health goals that she's been working on over the semester and am excited about the progress she's made."
In Brooke's Group Sports class she reflected on the goals she set at the beginning of the class, here is one of her goals and her reflection on it:   
Goal #3: Adapt to a daily workout routine.

          In the class I had to create many different workouts to meet the weekly requirements. Although, I went beyond with the requirements, I developed a daily exercise workout that I can follow through with and will fit perfectly with my schedule. The past few weeks, I have adapted to one specific routine which I am going to stick to but I'll always be pushing myself to be better.
Just as all of our students are unique, we think Brooke is pretty great and we're proud to have her in class! Thanks, Brooke!