Let us introduce you to our student of the week, Eli R.!  Eli is taking Health and Personal Wellness , he is working toward being a physical therapist. He goes to a very small school and so taking online health is helpful to his schedule at school. Find out more about Eli.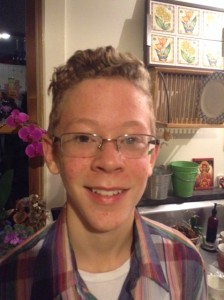 What do you like most about your Carone Learning course?
What I like most about the course is that like some of the classes I take, you have to take in so much in one day. That's why I like this course because you can learn the hardest topics piece by piece.
What have you learned in your Carone Learning course that will most help you in your life?
I think so far it is healthy relationships because I had no idea what a healthy relationship was before this course. In a way it can help me it can help me look at my own relationships and help me make decisions about what I can do to make a better relationship. I can also help others if they need help creating a stronger bond.
How has your Carone Learning course helped you improve your level of health or fitness?
One way this has helped me improve is before this course I only thought health was being fit and eating well but I was very wrong. This course has helped me improve strengthen all of my different types of health. My two most improved is Social health and Healthy relationships. These lessens have helped me to interact with others in a different and more respectful way. These lessons have also taught me how to make the most logical decisions mentally and socially.
How has your cFitness Academy instructor helped you with your course or your goals?
My instructor Rhonda Wheelwright has helped me in a lot of ways. The first thing is that when I was introduced to Rhonda she wasn't weird to talk to, she was very welcoming to this course and that made me more comfortable. Everything that I would ask she would answer in the most understanding response. Rhonda has also helped motivate me to improve my grades by telling me great job, keep it up all the time and that motivated me.
Why did you sign up for a course through cFitness Academy, and how has taking this course online been beneficial?
First of all I have been wanting to be a Physical Therapist for a while and before I took one of those classes I am required to take this class and I am glad that I was required to take this class and learn about all the different types of health. The way this has been beneficial is his has helped me see all the different types of health and how to improve yourself and help others.
Please share any other comments you have about cFitness Academy or your Carone Learning course.
I love the assignments, I'm always exited to do those because sometimes they give you fun activities that you can learn from
Here's what Eli's teacher had to say about him: 
"Eli always works hard and does his best, is through and caring with answers and I can tell that the information that he's learning is important to him."
In Eli's Health and Personal Wellness class he was asked how he would help a grieving friend, this was his response:
First I would figure out what step [of the grieving process] they are in to figure out where they are. I would always be there to talk and listen if he needs to at any time. I will try not to ask questions that make the problem worse. I will also bring up good memories about the loss to make them happier. I would also respect their grieving and maybe even cheer them up with a little note.
Just as all of our students are unique, we think Eli is pretty great and we're proud to have him in class! Thanks, Eli!