Let us introduce you to our student of the week, Alyson H.!  Alyson was enrolled in Medical Terminology with us. She plans to become a radiology technician and wanted to learn more before entering that field. She was able to enroll in our course and learn information that her school doesn't offer.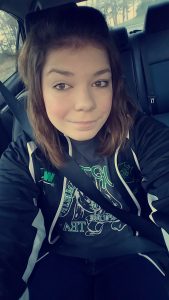 What do you like most about your Carone Learning course?
What I liked most about The Medical Terminology course was that the course was very easy to navigate. It is also important to me to be able to progress through the assignments at my own pace.
What have you learned in your Carone Learning course that will most help you in your life?
I want to work in the medical field as a radiology technician. This course gives me knowledge in the medical field that are not available in my school.
How has your cFitness Academy instructor helped you with your course or your goals?
My instructor helped me throughout the course by sending me emails about progress reports. My teacher also answered all of my questions that I had for her about assignments.
Why did you sign up for a course through cFitness Academy, and how has taking this course online been beneficial?
I signed up for this course because I felt like it was very important to get to know about the human body. This class was beneficial to me because I felt like I advanced my understanding of the human body. I also think that this class was beneficial because my high school doesn't have any medical classes to take.
Here's what Alyson's teacher had to say about her: 
"Throughout the course, Alyson has shown a desire to learn. I appreciate how she takes responsibility for her own learning. She reaches out when she has questions and follows through with action. "
Just as all of our students are unique, we think Alyson is pretty great and we're proud to have her in class! Thanks, Alyson!