Let us introduce you to our student of the week, Steven P.!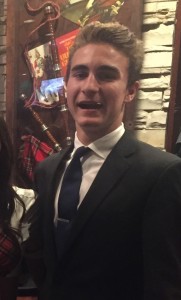 Steven, being already pretty physically fit was able to learn how to better fuel his body and make small changes in his fitness routine to better his health.
What do you like most about your Carone Learning course?
What I liked most about it was it made me take notice of my physical fitness and my nutritional habits~that I basically was not really paying attention to.
What have you learned in your Carone Learning course that will most help you in your life?
The most I learned was nutrition and how I need to change my eating habits in order to fuel my body.
How has your Carone Learning course helped you improve your level of health or fitness?
I was already pretty physically fit but as I said the course helped me pay closer attention and adjust things that weren't necessarily the best.
How has your cFitness Academy instructor helped you with your course or your goals?
She has been very gracious and helpful whenever I needed anything.
Why did you sign up for a course through cFitness Academy, and how has taking this course online been beneficial?
I signed up because that's what we were told we had to do to be honest. I am appreciative though because she helped me see a new way of learning.
Here's what Steven's teacher had to say about him: 
"He's logged in regularly, despite his extremely busy schedule, and submitted his assignments and fitness logs. Steven's assignments have also been, for the most part, very well done and thought out. He also communicates with me fairly well and lets me know when there are questions or complications that arise. I've been impressed with his diligence to get and stay caught up so he can finish this course even though he had to do it in a limited amount of time."
Just as all of our students are unique, we think Steven is pretty great and we're proud to have him in class! Thanks, Steven!