Let us introduce you to our student of the week, Emily F.!  Emily took anatomy with us and was really happy with the support she received from her teacher as well as the amount of information that she's learning to help her in her future career in the medical field.
What do you like most about your Carone Learning course?
The thing I like most about my Human Anatomy and Medical Terminology courses, is the teacher involvement with the classes. Although they are online classes, my teacher Mrs. Kooyman is very attentive with her students' progress, and she is always quick to respond to messages.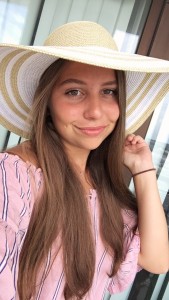 What have you learned in your Carone Learning course that will most help you in your life?
The Carone Learning courses have taught me so much about the human body and medical terminology. So, far, I have learned about the skeletal, muscular, and digestive system, and I am very excited to learn much more.
How has your Carone Learning course helped your improve your level of health or fitness? 
Thanks to Carone Learning, I have improved my health and fitness by eating a healthier diet filled with calcium and vitamin D and exercising more so my bones are able to grow.
How has your cFitness Academy instructor helped you with your course or your goals?
Mrs. Kooyman is very helpful, and she cares a lot about her students' grades. Whenever I message her, she responds quickly, and if I ask her a question about something I didn't understand in the lessons, she explains it in a way that I will understand.
Why did you sign up for a course through cFitness Academy, and how has taking this course online been beneficial?
I signed up for Human Anatomy and Medical Terminology through the cFitness Academy because I am interested in going into the medical field after I graduate from high school, and it has been very beneficial to me by teaching me what I need to know for my future plans in medicine.
Here's what Emily's teacher had to say about her: 
"It is a pleasure having Emily in both Anatomy and Medical Terminology. She works hard, making sure she understands the content thoroughly. She takes initiative, reaching out when there are questions or concerns. Finally, she pays great attention to details."
In the Anatomy course Emily has a lot of memorizing and studying to do. The unit exams can be rigorous, but students say that they learn a lot when they study as well as use the study guides and hints. 
Mrs. Kooyman let us know the following:
"Emily just scored a perfect score on her Unit 2 exam! This exam covered the digestive and skeletal systems. Great job!"
Just as all of our students are unique, we think Emily is pretty great and we're proud to have her in class! Thanks, Emily!