Let us introduce you to our student of the week, Jessica B.!  Jessica is just finishing up her nursing course with us. She is going to college in the fall and is excited to jump start her studies with the nursing courses, and benefit from a course that her school doesn't offer.
What do you like most about your Carone Learning course?
I like how it is self-paced and how I am still able to complete my online course work with my very busy schedule. I really like the diversity in assignments and the information I learn from research I conduct to complete these assignments. I also appreciate that the tests and quizzes are very fair and content-based however still require you to look at the information in a new way to ensure that you really understand it.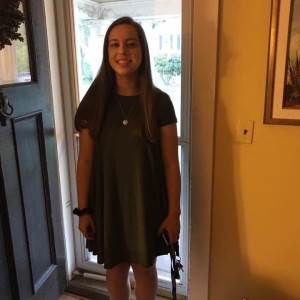 What have you learned in your Carone Learning course that will most help you in your life?
I want to be a nurse when I am an adult and will be going to college next year to study nursing. I think that this course has given me a great starting platform of knowledge so that when I enter into college I will be able to more quickly grasp the information being taught. Additionally, this course has helped me to definitively say that I want to be a nurse and has made me more excited to soon embark on my studies.
How has your cFitness Academy instructor helped you with your course or your goals?
Although this is an online course and I am working individually, I always felt as if it were a "real" class and that I could always go to my instructor with any questions. She was very friendly and sent me weekly emails with my progress reports and called me at the beginning of my course. I truly felt she wanted to get to know me beyond the computer screen and I really did appreciate this.
Why did you sign up for a course through cFitness Academy, and how has taking this course online been beneficial?
I signed up for this course so I could fulfill my high school graduation requirements without compromising my schedule of classes in school that I wanted to take. This course has been beneficial because it is self-paced a flexible. Additionally, a nursing course is not offered at my high school so it was great that I was able to fulfill my requirements with a course I actually wanted to take that will help me in the future.
Here's what Jessica's teacher had to say about her: 
"Jessica is very detailed in her responses for Nursing. I can tell she has a passion for the subject, which makes me feel like she will help many people in her career as a nurse!"
In the Nursing course Jessica was asked the following question: 'In general, in addition to understanding a patient's symptoms, what other information may be helpful in determining a diagnosis?' Her response shows thoroughness and a mind for nursing.
"Taking a family history to see if a family member had these symptoms and ended up being diagnosed with a certain condition can be helpful in diagnosing the patient. Also, if the patient has traveled recently because that can bring foreign diseases and viruses into play as well. Also, the patient's past conditions should be considered."
Just as all of our students are unique, we think Jessica is pretty great and we're proud to have her in class! Thanks, Jessica!