Let us introduce you to our student of the week, Siobhan H.!  Siobhan took Fitness Fundamentals 1 with us and enjoyed the self pacing as well as learning how to incorporate fitness into her life in places and times that she wouldn't have thought of before taking the course.
What do you like most about your Carone Learning course?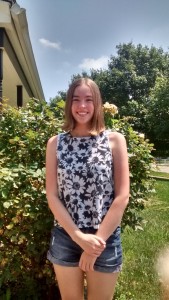 I enjoyed the self-paced nature of the Carone Learning course. Being able to complete assignments on my own time has allowed me to balance my course work with other responsibilities.
What have you learned in your Carone Learning course that will most help you in your life?
My Carone Learning course has taught me, among many things, how to fit exercise into my daily life. Before taking this course I didn't realize how many different ways a person can stay active within a busy schedule, and now I find that I have more time for exercise than I realized.
How has your Carone Learning course helped you improve your level of health or fitness?
Specific lessons in the Carone Learning course show you step by step how to create both exercise and nutrition plans that fit into your life. Being able to build and follow plans that are specifically designed for me have showed me what I need to do in order to lead a healthy lifestyle.
How has your cFitness Academy instructor helped you with your course or your goals?
Ms. Richards has been very helpful with reminders of due dates and making sure that I stay on pace with the course. She encourages questions and makes sure that her students have all of the support they need to be successful in this course.
Why did you sign up for a course through cFitness Academy, and how has taking this course online been beneficial?
I signed up to take this course through cFitness Academy because I did not have enough time in my schedule to take it at school. Taking this course online has been very beneficial because it has provided me with every resource and lesson I need to make healthy decisions and improve my level of fitness.
Please share any other comments you have about cFitness Academy or your Carone Learning course.
I have preferred this online fitness course to any gym class that I have taken because it focuses on how to improve your lifestyle specifically. At school I have never received the same kind of individualized support that my Carone Learning course has provided.
Here's what Siobhan's teacher had to say about her: 
"Siobhan has been a diligent student throughout the course. She's worked hard to get ahead quickly and yet still provide quality work. She takes her fitness logs seriously as well and has made great progress thus far. I've really enjoyed working with Siobhan and I love reading her responses to assignments and discussion boards."
In Joe's Family and Consumer Science class there is a unit on decision making. Joe has had to make some really hard decisions, because of his health, for such someone so young.
In each of cFitness academy's courses there is a place for students to collaborate and share thoughts on certain subjects. In Fitness Fundamentals there is the following 'team huddle:'
Team Huddle 3.2 Diversity & Inclusion
We live in a culturally diverse society with people of different ages, disabilities, genders, and races.  Although their activity level and preferences may differ, no matter what their social status, all people can benefit from physical activity.
How do you think one's age, gender, or race might affect their physical activity level and preferences?
What are some things YOU can do to help others in any age or situation participate in physical activity?
Response:  "Age often is a large contributing factor to a person's level of fitness. People who are younger tend to have more energy and more easily and readily perform difficult workouts. This allows them to participate in physically demanding activities, such as competitive sports. However, as people age, it can become more difficult to perform the same exercises that were once easy. Their preferences may change to include lower intensity workouts such as brisk walks or water aerobics. Society often depicts certain sports as meant for a certain gender, and this may impact the type of sports that people play. If someone is a girl, they may choose to ice skating over football, and a boy may choose baseball over ballet. Always being welcoming and encouraging of others, regardless of their situation, will allow others to feel supported and comfortable in any type of physical activity that they choose to participate in."
Just as all of our students are unique, we think Siobhan is pretty great and we're proud to have her in class! Thanks, Siobhan!