Let us introduce you to our student of the week, Victoria H.!  Victoria was enrolled in First Aid. She is planning on going into the medical field and wanted to start learning a base knowledge of first aid to help her ease into the expansive information of the medical field. She enjoyed learning through video presentations and performing skills hands on. She feels can now prepare for and help in emergency situations.
What do you like most about your Carone Learning course?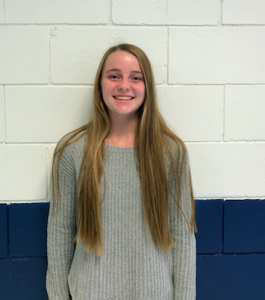 I like the self-pacing of my Carone Learning course. I also enjoy having the hands-on experience of the topics by making videos for assignments. I really find it efficient using the video presentations for the lessons. Also, the skill videos allow me to see what is taught in the video presentations.
What have you learned in your Carone Learning course that will most help you in your life?
I have learned the most essential parts to First Aid that can prepare me for any emergency situation. The course has taught me the major do's and don't's of First Aid. This course has helped me understand what I need to know if there is ever an emergency that I can help.
How has your Carone Learning course helped you improve your level of health or fitness?
I have become more aware of the dangers that could affect my health in a negative way. It has been beneficial to me knowing all the risks that can be taken in my everyday life. I have become more open to the world around me and how one decision can change the course of your day. Overall, it has helped me make better choices in my everyday life.
How has your cFitness Academy instructor helped you with your course or your goals?
My instructor has given me assignments that allow me to learn in a way that you can't in a traditional classroom. She has always been quick to help if I am stuck with something. She is always open to any of my questions or anything I need to tell her. Her communication is really well rounded for students, and I always feel informed.
Why did you sign up for a course through cFitness Academy, and how has taking this course online been beneficial?
I signed up for this course through cFitness Academy because I am interested in the medical field for my career. Also, First Aid was something that I wasn't that familiar with prior to this class. It has been beneficial because I learn something new each day I am on the course, and it has helped me be better prepared for what's to come in my future.
Here's what Victoria's teacher had to say about her: 
"Victoria is very thorough in her work and stays on pace! Her first aid skill videos are also really well done!"
In Victoria's First Aid course they are asked to help a fictional family better prepare their first aid kit. Victoria's response shows her thoroughness and thoughtfulness that is present in all her responses through the course:
Question: Can you think of three things that Billy's family can add to their emergency kit? What other steps can they take to be prepared?
Response: "Billy's family can add a battery-powered radio, a flashlight, and a first aid kit. Of course, if possible it would be nice to have extra batteries too. The radio would be important to hear any news that may be important to the safety of his family. A flashlight would be vital if it is dark or there is no power at the time. The first aid kit would be vital if a family member gets injured, they have the supplies to correctly tend to the wound. The could plan that in an event of a flood, where they all would go, proceeding they cannot go home. They also might want to consider getting flood insurance, just in case a flood would damage their home."
Just as all of our students are unique, we think Victoria is pretty great and we're proud to have her in class! Thanks, Victoria!