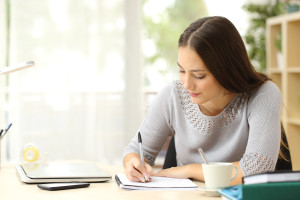 With schedule constraints and a need for more personalized programs, it's time for a new way to learn about health.
Online learning is here to fill the gap. After all, modern technology enables us to create customizable solutions for health and physical education. At Carone Learning we teach in the way that most modern students learn best; using online media and guidance to enable self-motivated learning.
However, anyone who has taken an online course knows that it takes more than a username and password. It requires a certain degree of personal accountability, and an affinity for technology-enabled communication. Here are 4 signs that you (or your child) will be able to succeed with our online health, physical education, or career courses:
1: You Thrive with a Personalized Curriculum
Health and fitness are such personalized subjects, it's difficult to use a one-size-fits-all model. Furthermore, negative social pressure in some schools can provide an atmosphere where it's hard to succeed for many students. However, with online learning, you are able to create a well-rounded exercise program, explore your personal interests, and determine your level of social interaction in physical activity.
2: You're a Self-Motivated Learner
You like to set your own goals, and explore things that you're curious about. Most children start with this mindset. They love to learn, and are endlessly curious. However, squeezing students into standardized measures and methods can drain a child's thirst for learning. Online learning can re-spark the love of learning, and the satisfaction in physical exertion that all of us naturally have. Paired with the support and resources that an accredited program can provide, many students succeed in online learning much better than they do in traditional programs.
3: Your School Schedule Is Cramped
Many online students participate in this way because the focus of their life makes traditional school schedules impractical. This might be due to:
Health challenges
Working ahead or behind
Traveling and transitional periods
If your schedule requires flexibility, or your time or physical ability is limited, that doesn't mean that you should miss out on the advantages of health or physical education, particularly when required for graduation.  Taking an online class can provide the flexibility you need to meet the other demands of your school schedule and your life.
4: You're Comfortable with Technology
Online learning will, of course, require a certain level of tech-savvy. You need to be able to interact with teachers and other students across a digital interface, including emailing, participating in online discussions, and downloading and uploading assignments or evaluation. If you know how to navigate your way around an online portal and stay organized using computer programs, online learning could be your perfect fit.
Still wondering if online learning is right for you? Take this quiz and see where you stand.
Skills from Online Courses Translate as Lifelong Learning
Health and PE are provide principles that should act as a foundation for continued practice and learning throughout your life. Through personalized learning, you can find what works best for you, and how to support your own health and fitness, even after the classes are over.
If you have more questions, contact us today. We can give you more information on our course catalog, and what a class structure will look like.