Let us introduce you to our student of the week, Kristin B.!
Kristin is currently taking Physiology through Carone Learning's cFitness Academy.  Learn a little more about Kristin and find out what she likes most about our courses, teachers, and flexible online learning program.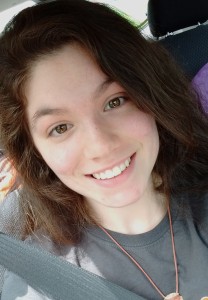 What do you like most about your Carone Learning course?
A few things I really enjoy about my Carone Learning course is that I can set my pace and go quicker or slower each week as long as I meet my deadline, and that I can have a good one-on-one with my instructor, either by emails or phone calls.
What have you learned in your Carone Learning course that will most help you in your life?
My goal is to become a Registered Nurse, so the anatomy and physiology from Carone Learning are exposing me to what I would be learning in post-secondary education.
How has your Carone Learning course helped you improve your level of health or fitness?
Carone Learning has helped my improve my level of health by teaching me some of the important functions my body performs – like what foods I need for proper digestion, or to keep my hair healthy.
How has your cFitness Academy instructor helped you with your course or your goals?
My instructor has been a big help by explaining how the course works, what pace I should keep to make sure I get everything done in time, and material I do not understand; also, has been very encouraging since I started my courses.
Why did you sign up for a course through cFitness Academy, and how has taking this course online been beneficial?
I signed up for a Carone Fitness Academy because I really wanted to take anatomy and physiology, but could not fit it into my high-school schedule. It has been a beneficial course because now I am exposed to what I will be majoring in during college, and it is good to know about your body.
Here's what Kristen's teacher had to say about her: 
"Kristin is a great student. She communicates well, works on pace, and shows a strong understanding of the content."
Just as all of our students are unique, we think Kristin is pretty great and we're proud to have her in class! Thanks, Kristin!