Let us introduce you to our student of the week, Sarah Y.!  Sarah took Anatomy with us and found it helpful to her ballet training to learn more of the human body, it also helped her become more self aware about body movements. She liked that if she was interested in a particular topic there were links where she could research more!
What do you like most about your Carone Learning course?
I love working at my own pace, it is supremely helpful for my busy schedule and satisfying that I can complete a large chunk of work in a short period of time if I wish to do so. Particular to my Anatomy course, the Worksheets and individual research are my favorite parts, I love choosing what I would like to research and learning as much as I can about it.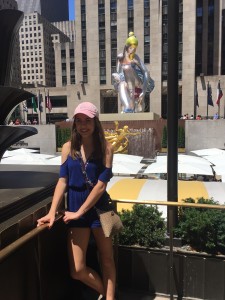 What have you learned in your Carone Learning course that will most help you in your life?
The most valuable thing I have learned through Carone Online is not only new information about the human body, but life skills such as time management, self-discipline, and responsibility.
How has your Carone Learning course helped you improve your level of health or fitness?
I have learned more about the human anatomy and, being a ballet dancer, understanding how, why, and where certain muscles, bones, and ligaments work was fascinating. I am more self-aware because of this course.
How has your cFitness Academy instructor helped you with your course or your goals?
Mrs. Kooyman is a wonderful teacher! She is responsive every time I have a question and is always efficient and kind in her responses.
Why did you sign up for a course through cFitness Academy, and how has taking this course online been beneficial?
I am a trainee at BalletMet in Columbus, Ohio, and I had to switch to online school to attend daytime ballet classes. I am able to train rigorously both ballet-ically and academically, thanks to cFitness.
Please share any other comments you have about cFitness Academy or your Carone Learning course.
I love how organized and straightforward the course materials and assignments are displayed. I know exactly where I stand progress-wise, and how much of the course I have left. That has been very helpful in completing assignments on time and staying on top and ahead of my work.
Here's what Sarah's teacher had to say about her: 
"Taking your first on-line course can be a little intimidating, but Sarah jumped right in and is doing a tremendous job. She works hard, always submitting her assignments ahead of pace. She asks questions, genuinely wanting to understand the content. Finally, she is doing great on her quizzes and exams. Wonderful job, Sarah!"
Just as all of our students are unique, we think Sarah is pretty great and we're proud to have her in class! Thanks, Sarah!